Intro
What will break Internet of Things (IoT) out of the novelty basket and into the mainstream? When we say mainstream, we mean television and mobile phone mainstream, i.e. in every household and in every pocket. The answer is data – people pay for data-based services, and businesses that harness the power of data and the Internet of Things make their balance sheets sing.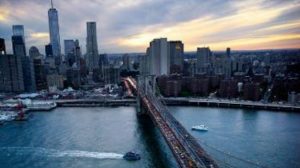 The Internet of Things (IoT) has been one of the most hyped technologies for years. Until now though, very little of actual substance appears to have risen to the top. This may be about to change though, as compelling business cases for IoT are beginning to emerge.
"Data is kind of like oil," writes Drew Robb for Enterprise Apps Today – quoting Dan Vesset, an analyst at International Data Corp. It's valuable by itself, but ultimately it needs to be broken down, processed, and turned into the end product to be sold on. The emergence of IoT has made it abundantly clear that people are willing to pay a premium for the right sort of data.
This new use of data can change whole businesses and their outlook. Take John Deere, a company famous for selling tractors and farm equipment. For decades its focus was on selling equipment, but its use of data analytics and IoT technology has shifted this to a preference for leasing its equipment out. This enables it to gather data from the machines and components and use that data to maximize maintenance efficiency and offer other services.
It is this focus on services rather than simply products that is shifting the way businesses think about IoT. Another example is mousetraps. Schneider Electric intends to build a new kind of mousetrap with a sensor inside. This makes it possible to offer a rodent removal service – meaning a monthly subscription fee rather than simply a one-time sale. This has even extended to the point where some companies are simply giving their products away – in order to hook the client with the monthly fee. All this comes with the promise of savings that dwarf the monthly outlay. Indeed, some surveys show business processes improving significantly by making use of big data analytics.
However, improvements are still needed. As many as half of the companies reviewed for one survey indicate they have spent too much time simply reviewing data for quality and consistency. A further 46% complain about the preparation required, and 39% struggle to connect the related data sources.
Part of this is due to the confusion over what companies want from IoT. Too much scope and it is hard to focus on what is really necessary. In some people's eyes, IoT is more useful for operational intelligence than strategic intelligence. IoT is real – or near real – time. So any conclusions drawn are of most value in the same time-frame. The faster the data can be integrated, stored and analyzed, the more value will be gained from it.
Summary
· Businesses can make the IoT work by harnessing the power of data
· Enables a move from product based sales to more profitable service based sales
· The data has to be refined to make it useful
· Companies will have to overcome the challenge of data quality and consistency
Big Data and related technologies – from data warehousing to analytics and business intelligence (BI) – are transforming the business world. Big Data is not simply big: Gartner defines it as "high-volume, high-velocity and high-variety information assets." Managing these assets to generate the fourth "V" – value – is a challenge. Many excellent solutions are on the market, but they must be matched to specific needs. At GRT Corporation our focus is on providing value to the business customer.